I'm still here, but I have felt a bit like I was drowning the last few weeks. Nothing I really feel comfortable disclosing on a public blog though. It started out a month ago as "one of those days" and quickly became "one of those weeks" and many weeks later it is "one of those months." So help me God if it becomes a "semester" or "year!" I tell you, I am not strong enough. I have not exercised in TWO WEEKS. I tried twice and literally didn't have the energy to get past the warm up section of the video. This situation has spiraled out of control so quickly that I have a hard time even explaining it to people. I don't quite understand all that has happened (and is still happening....and escalating!). I'm so incredibly drained. Oh, and the source of this is a volunteer gig. As in, I chose to do this for fun. I have spent more time on this situation each of the past few weeks than most people spend working two jobs. Seriously. Early morning to late at night. Get a call and have to get out of bed because it is so late at night. So I haven't blogged. Because I am running on empty. I feel like my body is simply coasting from one thing to the next. And I try to avoid caffeine in life so I am seriously barely keeping my head above water. Did I mention I do what I do for free?
But it hasn't been all doom and gloom. Here are a few nice things that have happened in the last few weeks...
* A fellow etsy seller stopped by my
etsy shop
and left me a message simply to compliment my
ice cream cozies
. No other reason. I've never thought to do that before but you can bet your bottom dollar I will start to spread the compliment love on etsy from now on. It seriously felt so lovely to have a stranger take a moment out of her day to say she likes what I make. It gave me such a high when I was having such a tough day.
* My sorority Recruitment went A-MAZ-ING!! I helped the chapter change a lot about Recruitment this year. Some things were more popular than others. So I was a nervous wreck knowing my butt was on the line. It was worth every effort because my girls ROCKED! I was the proudest little Chapter Advisor ever. They just worked so hard (after much nagging but in the end, they worked their tails off) and looked so beautiful (there were a few tempter tantrums but whatever)! Crazy proud!
* My placement for Junior League (that I am co-chairing) is well underway and going far better than I imagined. Still in the very beginning stages and still a LOT riding on my shoulders (last year they were very successful so I have big shoes to fill) but I feel more confident that I can do my job and (hopefully) do it well! I was sick with nerves all summer over volunteering to co-chair this huge fundraiser. Don't get me wrong, I'm still a nervous Nelly. But at least I'm not sick over it. Progress!
* I am getting a bit better at seeing the big picture in life. This can be a challenge for me when I am in the middle of a crisis. Now if
you
are in
your own
crisis, I am seriously the best at enlightening you to the bigger picture. I can calm you down in a skinny second. But I suck at taking my own advice. It never even occurs to me most times to look at the bigger picture. I sort of think that's a female thing though. So many of us can take care of the entire planet and never think, hey I need to relax or eat or think this through or go to bed early or indulge in a piece of pie or take a bubble bath or go to the doctor.
At one point when I was speaking with my advisor person in regards to the mega-crisis in am still in the middle of, I said that I am assuming this situation is preparing me for something later in life. I gave a specific example but in an effort to not lead any sort of trail of info that could make things worse, I'm trying my best to not go into details. But anyway, I gave the example and she started laughing so hard. She said she would never have thought of it that way. Which made me feel great. I'm sure she doesn't realize that but it did make me feel so proud. I am trying very hard lately to be like
Bestie
. She is so great at looking at a situation and seeing that it could potentially be of benefit later in life. She sees things, good and bad, as God's will. So I am trying to do the same. This challenge is God teaching me skills to use later in life. I do not think these new skills are fun. At all. But they surely have some greater purpose other than making me feel exhausted, hurt, upset, and unmotivated to get my butt moving. This is a life lesson. A big, fat, five credit life lesson. The final exam is going to be a bitch. And it will be a surprise, as I currently do not know when it will come to a conclusion. But mark my words....if it take every ounce of my dwindling energy, I will pass this exam with flying colors!! I've invested too much at this point to not see it through to the bitter end.
Dear God, please make it less
bitter
and more
end,
though. I am seriously exhausted!
* I had a small party at my home today and it was fabulous. Just coffee and treats. But it was the most perfect day outside. One of those crisp and cool early fall days. Not a cloud in the sky. With the sunshine making it warm enough to not require a jacket. Lovely company and great food (if I do say so myself). If I can get my act together this week, I have a great brownie recipe to share.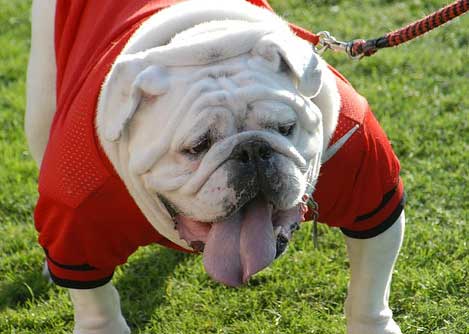 * Fall Football Saturdays. SEC football. GEORGIA football. Gooo DAWGS, sic 'em!!
So there you go, another rambling post trying to explain why I have not been very active in Blogville as of late. I am determined that this week will be better. But you should know that I said the same thing last week so...